hermitologist
Some Very Brief Thoughts On The Josh Hamilton Deal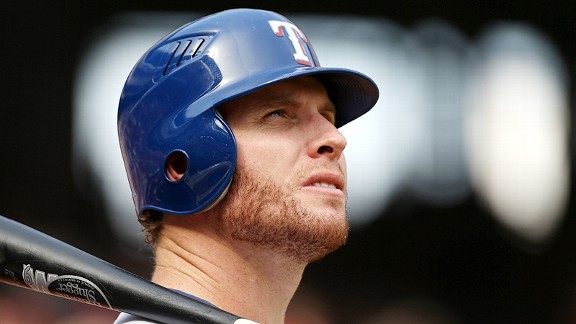 Just look at him. He's gazing towards the Lord, wondering where his next $125 million dollars will come from. Answer: Arte Moreno. Thank ye, baby Jeebus. And also: TV contracts or billboards or something.
I've been letting this marinate for several hours, and while I'm not sure I've fully wrapped my head around the Los Angeles Angels signing Josh Hamilton to a five-year, $125 million deal Thursday afternoon, I've had enough people hit me up via Twitter and text to feel like I should write something … anything, really … on the signing.
So, this is that.
I like it. Kinda.
I like that the Angels are going to get a guy who has averaged 33 home runs and 107 RBI and an OPS+ of 146 over the past three seasons.
I like that the Angels are getting a player who is worth roughly five wins per season, via bWAR.
I like that an outfield of Hamilton, Mike Trout and Mark Trumbo is pretty ridiculous, offensively. (Meaning: "Offensively" as BASEBALL TERM, not "offensively" as "something that elicits disgust and might make me barf into any one of my several Angels hats".
I like that it means that the Angels could probably move Peter Bourjos or Kendrys Morales and more for another starting pitcher (R.A. Dickey, perhaps [for a year, at $5 million]).
I like that I won't have to watch him post a .903 career OPS with 14 home runs and 55 RBI against the Angels (even though that wasn't incredible, it sucked on many occasions).
I like that his middle name is Holt. Because WHAT.
But there are some things that I don't like.
I don't like that an injury-riddled (and declining) Josh Hamilton (at age 34, 35 & 36) is going to be paid $25 million per year from a team that already has a s***load of money tied up in not-so-many players.
I don't like that his mettle, moxie or whatever is questionable (according to SOURCE).
I don't like that his defense makes the Angels outfield weaker than it would have been with Trout, Bourjos and Trumbo.
I don't like that Josh Hamilton has hit .260 at Angel Stadium over his career, with five home runs, 19 RBI and a tOPS+ of 70.
I don't like that Vernon Wells is going to be paid $4 million less than Josh Hamilton to watch Josh Hamilton play baseball next year.
And that's that … for now. Still processing this. Still worried about the rotation.
BASEBALL. HOT STOVE. HAVE SOME.